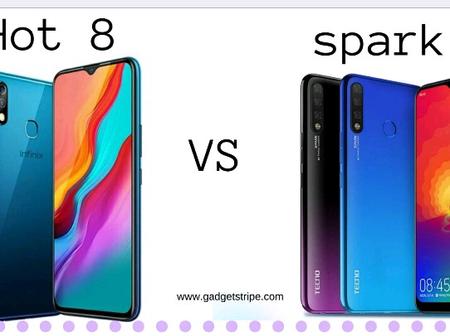 First You have to know where these phones are manufactured and their Qualities.
Tecno is a Chinese mobile phone manufacturer based in Hong Kong.It was established in 2006.
It is subsidiary of Transsion Holdings.Tecno has focused it's business on the Africa and South Asian Market.
While
Infinix is a Hong Kong based smartphone maker founded in 2013 by Transsion Holding.
The Company has research and development centres sprawling between France and Korea and designs it's phones in France.
The both are good smartphones which comes with good quality display and high Random Access memory ( RAM) and Read Only Memory (ROM)
For instance Infinix Hot 7 has 2GB of RAM and 32GB ROM which can enable the Phone with fast processing and high space of storage.Tecno Camon 11 is Infinx Hot 7 equalivalent has same RAM and Storage of 32GB.
But Infinix has stronger Battery over Tecno Phones.Infinix Hot 7 has 4000MAH battery while Tecno Camon 11 has 3750.
Same thing repeated in Infinix hot 8 over Tecno Spark 4 which are equal in rank but Infinix hot 8 has 5000MAH while Tecno Spark 4 has 4000MAH.
So if U need stronger battery go for Infinix and You can go for Tecno phones if You are interested in RAM.
COMMRADIC 🆎 NSO NSO